It is with a broken heart that I share the news of the passing of our beloved D'Angela.
She had a strangulating lipoma, which attached itself to her intestine & killed it. She was in a great deal of pain and the only thing to do for her was to humanely euthanize her. She is buried here on the ranch out in the pasture.
D'Angela & I have been a team for 26 & ½ years since she was 18 months old. When she first came to me, she was so head shy it took 3 months just to get her to trust me enough to let me put a halter on her easily. Together we went to many horse-training clinics and spent countless hours learning together. By the time I had "finished" (you're never really done) training her, I rode her bareback without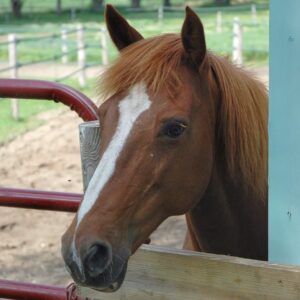 bridle/halter/reins of any kind. D'Angela was an amazing horse. She saved my life at least three times out on the trails. Together we won the Mid-America Paso Fino Trail Horse Championship (taking 1st place in 4 of the 5-class series) when she was just 3 years old. It was the first time in a show for both of us. The judges all commented on the bond we had even then. Together we taught many children and a few adults how to ride, often after spending many hours working on the ground to help them work through their fear of horses. She was always gentle and kind and took care of her rider.
D'Angela helped countless children, youth, families, adults, and corporate groups in her role as a HOPE Ranch therapy horse. She was a special soul who touched, and healed, the lives of many people. She loved being a Mom and raised two of her own foals, and raised our therapy horse, Red Hawk, from 6 months after he had to be weaned from his momma early.
Words cannot express how much I appreciate your kind words and support as we all process and work through this difficult time.
Sincerely,
Kit Muellner
Clinical Director & CEO
HOPE Ranch