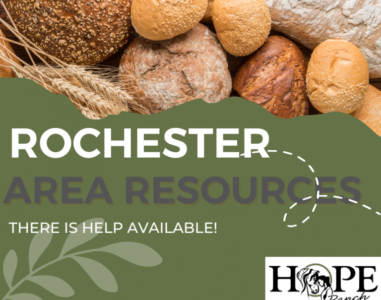 Sometimes people find themselves suddenly in need. But too often, it takes time and work to get into the system. Fortunately, there are resources that help those that find themselves in immediate need.
Below is a list of resources we often share with clients that may be of use.
PEOPLE FOOD
Community Food Response (C.F.R.)

120 1st St. NE Rochester, MN 55906 Phone
Phone: 651.789.2449
https://www.communityfoodresponse.org/
CFR is now located at The Salvation Army Campus downtown Rochester, at 120 1st St. NE (corner of 1st St. NE and 3rd Ave. NE).
Hours are Monday, Wednesday, and Friday from 4pm to 6pm.
Anyone can come to us for food. They do not require registration and do not have guidelines for receiving food.
All are welcome.
Drive through the parking lot (look for entrance and exit signs) on the west side of our building. They will come out to meet you at your car.
Channel One Regional Food Bank and Food Shelf
131 35th Street SE Rochester, MN 55904
Phone 507.287.2350
Weekly Food Shelf Hours
Mon – Thur: 8 a.m. – 6 p.m.
Fri: 8 a.m. – 12 p.m.
Sat – Sun: Closed
If you need groceries delivered to your home, please call the Food Shelf delivery line at (507) 424-1720. Leave a message with the spelling of your first and last name and a phone number to request a delivery. They will return your call within 2 business days to confirm your delivery date. Deliveries will be made on Tuesdays and Thursdays. All deliveries will be contactless. Please note they are unable to deliver outside of our service area of Olmsted County, MN. With your delivery, you will receive a variety of fresh produce, frozen protein (meat or fish), milk, dairy, eggs, and shelf-stable groceries.
Open Table Food Truck
https://www.opentablerochmn.org/
Phone 507.288.2649
Beginning at 5:00 pm they are parked at Parkside Park (across from El Gallo food store @ 2245 Park Ln SE, Rochester, MN 55904 until about 5:50 then they head over to East Ridge Estates Apartments @ 2009 17th St SE # 67, Rochester, MN 55904 and serve from 6:00-6:30.
In November winter schedule is as follows:
5-5:30pm Oak Terrace Mobile Home Mailboxes
5:30-6:00 Parkside Estates Mailboxes
6:30 East Ridge Estates Apartment complex.
They also serve burritos from the west side door of Zumbro Lutheran Church (Door 8) from 5:00-5:30 pm.
Each week they serve free burritos, made with halal turkey meat, cookies.
They try to have fresh fruit, or fruit cups and other "extras" as they are able. They are in partnership with Channel One and Minnesota Central Kitchen which means we are distributing prepared meals (made by café relish) each week as well. This means a hot burrito meal on Thursday and meal to take home for Friday.
Food Shelf
Our food shelf in Rochester, MN, is the only food shelf accessible to the downtown area. Households can visit twice a month. It is located in our Social Services Center at 115 First Avenue NE. Phone 507.288.3663. They serve over 500 households each year with basic food items like cereal, rice, peanut butter, meats, milk, eggs, fruit, vegetables, and baking supplies. The food shelf is open from 10 a.m. to 4 p.m. on Tuesdays and Fridays.
Lunch Program
A free lunch is served Monday through Friday from 11:30 a.m. to 12:30 p.m. in the Social Services Center at 115 First Avenue NE. All are welcome.
Bread Pantry
Our guests are welcome to take free bread from our free bread pantry located at 115 First Avenue NE. Baked goods are collected from Hy-Vee Crossroads to stock our shelf at 8 a.m. Monday through Friday.
125 Live
125 Elton Hills Dr. NW Rochester, MN 55901
Phone 507.287.1404
Email info@125livemn.org
The food pantry is open to all members and the public.
Located in the Lower Level. Open weekdays 9-11 am and 1-3 pm. No income requirements. Open to all Members and the public; targeting older adults. Food donated by members, friends, and local businesses. They encourage members to shop in the food pantry. The inventory varies based on the donations we receive. Some days, there's fresh bread, cookies, rolls, salads, and always nonperishable foods.
CAT & DOG FOOD
Camp Companion
PO Box 7478 Rochester, MN 55903
507.951.7801
questions@campcompanion.org
Paws & Claws (Bin on backside of building)
3224 19th St. NW Rochester, MN 55901
507.288.7226
info@pawsandclaws.org
SOCIAL MEDIA GROUPS
Facebook
Buy Nothing Rochester Area, MN
https://www.facebook.com/groups/472850663057236